The Microwave is a block used for crafting certain recipes of the Food Plus mod. It cooks a variety of food, similar to the Furnace in regular Minecraft.
The Microwave is used as an alternative to heat up or melt certain items, and is powered with redstone. When a microwave is powered, the black square on the front will turn yellow.
The recipes it is used in includes:
Microwave GUI
Edit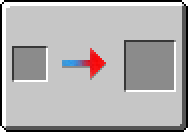 Crafting Recipe
Edit
This block is crafted on the Workbench.
Ingredients:
Edit